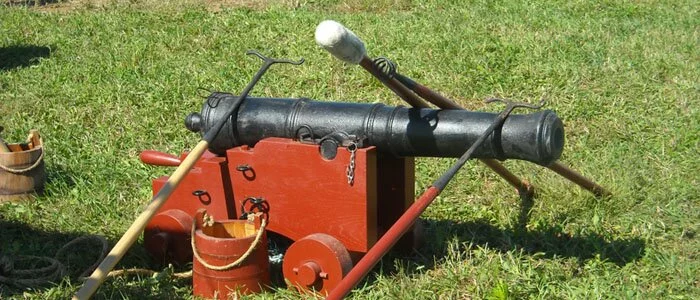 MEET DEFIANCE, the Pennsylvania Navy's sub-caliber Verbruggen 3 pounder. The original Verbruggen cannons were manufactured by Jan Verbruggen, Master Founder, and his son Pieter at the Woolwich Arsenal, (outside of London) for the British military during the later part of the 18th century. Archaeologists have uncovered over 500 Verbruggens at Revolutionary War battlefields throughout the East Coast. Arguably it is the most common cannon of the Revolutionary War.
THE TUBE: Purchased from Hern Ironworks, the tube is cast iron with a steel sleeve and a 2.25 inch bore. It weighs approximately 250 pounds. A special thank-you to the guys at Moldcraft Co., for taking such an interest in the project and drilling out the touch hole.
THE IRON FITTINGS: Defiance's capsquares, linstock and worm were handforged by Kelly Smyth, one of the nation's foremost traditional maritime blacksmiths. A Smithsonian Folklife exhibitor, she has also been named one of the top 200 traditional craftspeople in all trades by Early American Life magazine. Kelly has also handforged the iron fittings for the tallships Kalmar Nyckel and Sultana.
The fittings on the gun carriage were also japanned black, as was done in the period, to protect them from the elements. Japanning is a black varnish obtained by cooking asphaltum with linseed oil which is then painted on the metalware and left to dry.
THE CARRIAGE: John Muller's, A Treatise on Artillery, (1780) provides the basic diagrams with which to design a carriage typical of naval truck and garrison carriages of the eighteenth century. It was a simple matter of taking Muller's drawings and scaling them up using basic math based on the trunion diameter of the tube, which is a known critical measurement, and all other measurements followed from there. Defiance's carriage is made from 2.75 inch white oak.
Despite her prodigious weight, Defiance can be moved safely and efficiently on and off her transport vehicle via the use of steel ramps and a chain winch.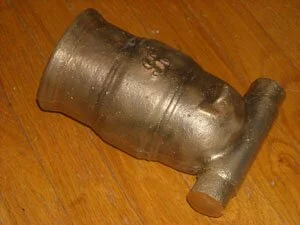 MEET HELLMOUTH, a 2.5 inch chambered naval bronze coehorn that supports Defiance. She is typical of the small grenade launchers that were in common use during the Revolutionary War period. The tube was cast by Gilmore Ordinance and purchased via Flying Canoe Traders.
A very special thank you to Pennsylvania State Navy member, Mitch Davis, for drilling her touch hole.
Hellmouth's iron fittings, worm and linstock were handforged by Kelly Smyth. The tube sits on a carriage made from 4 inch thick rock maple.