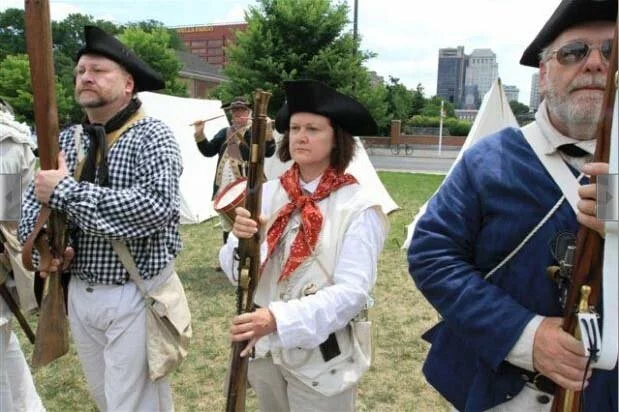 July 2nd at the National Constitution Center
Wonderful day. Hot, but hey, it's July.
A full contingent of PSN members and friends spent the day as part of the Revolutionary War encampment on the front lawn of the National Constitution Center. Also there were the 6th PA, 3rd PA, 11th PA and 1st NJ Loyalists. Thanks to our fabulous member, Mike K., who brought down his collection of repro 18th century naval gear — keg mines, leyden jars, instruments from the submersible "Turtle", and his show stopping wall gun aka amusette.
There was a heavy stream of visitors throughout the day. We got to preach the gospel of the Pennsylvania State Navy and the Revolutionary War to folks from across the country as well as around the world. And why not. What better place to spend the 4th of July than in Philadelphia.
CBS3 was there taking still photos.
The event photos start at photo #32.